P/T Plugs, Gauge Adapters and Test Kits from

Texas Fairfax Company, Inc.
Fairfax Pressure Temperature Test Plugs are an economical and efficient option for measuring pressure or temperature in closed systems. They eliminate the need for expensive inline gauges and testing equipment and make system shutdown unnecessary for pressure and temperature checks.
Our exclusive double-sealing core insures long and trouble-free service and is consistently rated at 1000 PSI depending on application. We offer core materials for a wide range of applications including: hot water, chilled water, air, lubricating oil, gasoline, natural gas, refrigerants and aliphatic hydrocarbons.
We cater to small and large companies alike, giving each the personal service that comes with a hands-on approach from the owners and staff. We never require a minimum order — whether it's one plug, or 50,000 — you'll get the best. We supply our products to many of the companies on the Supply House Times Premier 150 list and a number of industries:
Why choose Texas Fairfax?
Family owned and operated since 1975, we offer:
Extemely competitive pricing
Independently tested by Rockwell International
No minimum order
Our experience and commitment to quality, reliability and service is unsurpassed. Learn more about us.
Get the details.
Visit our products page to get details on the Fairfax Plug and accessories, locate one of our nationwide distributors, or contact us today for more information or to place an order.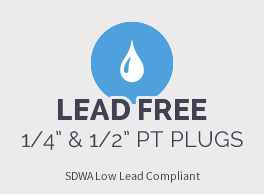 Visit our products page for details, or contact us today for information, pricing or to request samples.
Lead Free Part Numbers:
LFN-76-01 Neoprene ¼"
LFN-76-02 Nordel ¼"
LFN-78-01 Neoprene ½"
LFN-78-02 Nordel ½"